Overview
In order to get packages, you can do it in 2 ways:
By calling endpoint for getting packages for an order. That will be explain in this article.
By calling endpoint for get whole info for single order. More information in here.
Endpoint that is presented in this article is used for getting packages for a single order using pagination. If order has a lot of packages retrieving all in a single call could be resource consuming. That's why SellerCloud Rest API gives an option for pagination. In that way you can retrieve top 5 packages etc.
In order to consume the endpoint you must:
For information on how you can authenticate, see: Authentication
As soon as you do authentication and receive a valid token, it needs to be passed on the call when updating the order.
Have valid ID of an existing order
Endpoint
Example for such endpoint for TT server is https://tt.api.sellercloud.com/rest/api/Orders/Packages
For your server endpoint will be:
https://{your_server_id}.api.sellercloud.com/rest/api/Orders/Packages
Request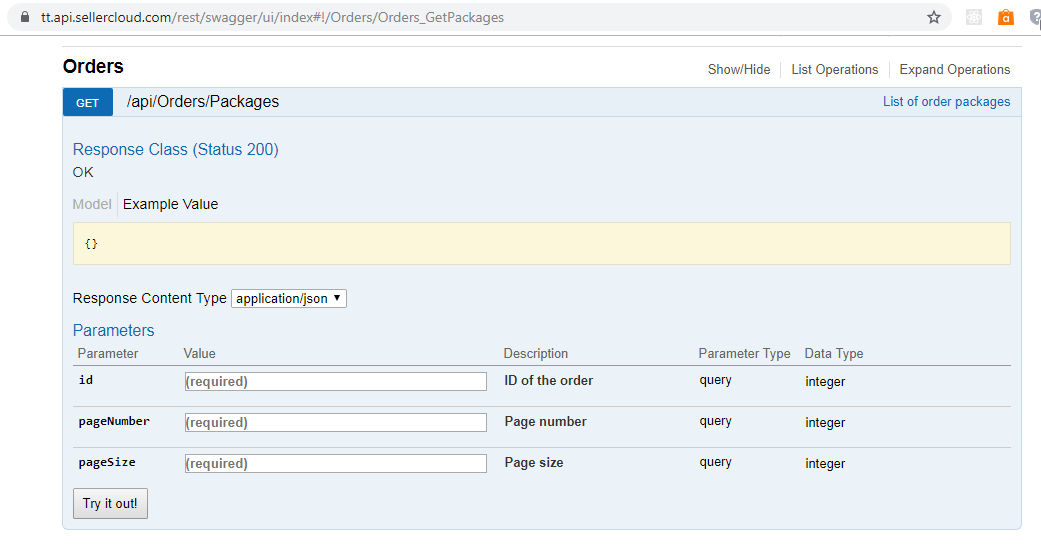 Method Type: HttpGet
Authorization: Use Bearer Token + token received from token authentication
Header info: Content-Type: application/json
Body data:


| | | | |
| --- | --- | --- | --- |
| Parameter | Data Type | Description | Is Required |
| id | integer | ID of existing order. | Yes |
| pageNumber | integer | Number of the page. | Yes |
| pageSize | integer | Number of packages per page. | Yes |
Response
If server error appears, then response will be with status code 500 => Internal Server Error
If getting order packages is successful, response will be with following format:
1

2

3

4

5

6

7

8

9

10

11

12

13

14

15

16

17

18

19

20

21

22

23

24

25

26

27

28

29

30

31

32

33

34

35

36

37

38

"TrackingNumber"

:

"3123131313131"

,

"EstimatedDeliveryDate"

:

"2019-02-08T19:09:24"

,

"OrderItemBundleItemID"

:

0

,

"OrderItemBundleItemID"

:

92222

,

"OrderItemBundleItemID"

:

0

,